Gadgets
Published on January 23rd, 2012 | by Pradeep Farkya
1
V20B Gingerbread update available for LG optimus Black (P970) In India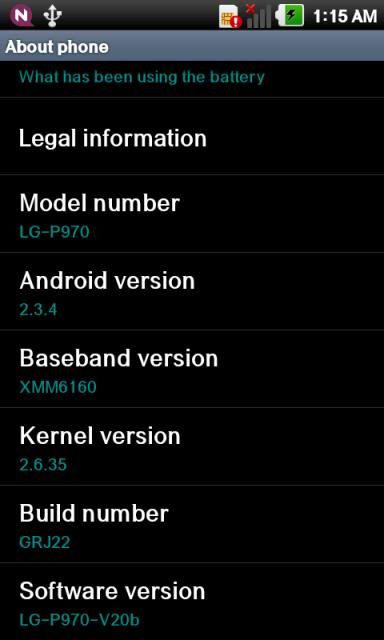 LG has rolled out gingerbread update for Optimus black (p970) in india,the updated version being  2.3.4.The device can be updated via LG mobile support tool.
LG has already promised to bring ice cream sandwich to LG optimus black,but it seems it will take some time for ICS to come on optimus black.
The new update brings the following new features,
Improvement in performance.
Viewing multimedia content will require less CPU power.
Performance and battery consumption has been optimized.
Support for more powerful graphics to allow for an enhanced mobile gaming experience.
Improved UI to enable faster access and control and a more intuitive user experience.
 One-touch word selection and copy/paste.
 Download management revamped
Support for new media formats such as AAC, AVC, MPEG 4 and H263.
polaris office and voice recorder apps have been updated.Google plus app has been included.
Update Guide
To update your device to V20B gingerbread,follow the instructions below,
Download LG mobile support tool from here.
If necessary device drivers are already installed,then you are good to go further,otherwise the support tool will install it for you.Or get the drivers from here.
Now connect USB cable to phone first and then to PC.
After this your device information will be available on mobile support tool.
There will be a notification on the left side like "New update is available"
Start the update  process,make sure there is no power cut.
Important Notes
In case,if you are not seeing the update notification on support tool,don't be worried it will be available within a week.
In case if the update stops in between,and you are unable to reboot the device,go to nearest LG service centre and tell them that there was some problem while updating the device.The LG people will give life to your device and would probably change motherboard (PCB).
If you are too scared,then i suggest you to go to LG service centre and get the device updated from there.
–source:xdaforums